Nanjing cloud-pattern brocade
30 minute
Documentary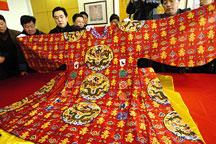 Click on the Photo
Back at the time of the Tang Dynasty, over a thousand years ago, China's emperors began wearing a highly-elaborate type of gown known as a 'dragon robe'. These gowns were notable for two things; they were woven with dozens of exquisitely-crafted dragon designs, and they were made of a very exclusive type of silk fabric. The silk was described as "Brilliant, like the colours of a cloud"; hence the name, cloud-pattern brocade. The techniques involved in weaving this cloud-pattern brocade were, as you might imagine, highly complex. A special government department was even set up, to supervise production. For much of history, cloud-pattern brocade-making was centred on the city of Nanjing.

"Jacquard brocade" was the most difficult to make of the three kinds of Nanjing cloud-pattern brocade. Even the modern machinery of today is not up to the job of weaving it. This begs the question: How was it possible to produce it, back in those less technologically-advanced times?

Qing Dynasty etiquette dictated that all the cloud-pattern brocade for the emperor's use should come from one of three imperial workshops; these were in Jiangning–today's Nanjing – Suzhou and Hangzhou. Emperor Kangxi, it seems, had a special fondness for the products from the Jiangning workshop.

For more than a thousand years, the skills of making cloud-pattern brocade had been proudly preserved. But then, amid the warfare and social upheaval that began towards the end of the 19th century, production went into decline. Cloud-pattern brocade-making, probably the finest achievement of fabric production in China, virtually disappeared. In our next programme, we'll examine the efforts made by the Nanjing Brocade Research Institute in recent decades, to restore cloud-pattern brocade-making to its former glory.
Free Chinese Lessons for Everyday Use