Chinese green tea

Tie Guan Yin's story 铁观音
Chinese people love to drink tea. There is green tea and red tea - Lu Cha and Hong Cha. Green tea is drunk young and fresh, like white wine. Red tea is specially packed and allowed to slowly age, undergoing a kind of fermentation process, like red wine. The older the red tea, the higher the quality. 'Pu Er' is the most famous red tea.
The green tea and the red tea have very different flavours and aromas. This story is about green tea.
The most famous green tea is 'Tie Guan Yin'. Why is it called Tie Guan Yin? In China there are many stories which tell its history. Xi Pin town, An Xi region was the birthplace of Tei Guan Yin. This is one of the fables.
Long long ago, in Nan Yan, a part of Xi Pi town, there was a person whose name was Wang Sirang. He was a minor government official. He built a personal study, a 'shu zai' in Nan mountain. People of means often built studies for themselves in secluded and beautiful places. They consisted of a small building and often surrounded by exquisitely landscaped gardens. The buildings were a retreat, and were dedicated to intellectual pursuits such as reading, writing, painting, calligraphy, art in general and so on. Wang Sirang named his study 'Nan Xuan'. He often met his friends in Nan Xuan where they talked about the country, politics, life and spent many happy hours painting and writing poetry.
In the spring of AD1736, Wang Sirang one day invited his friends to Nan Xuan. They drank tea and talked for a long time, really enjoying each other's company so that they completely forgot the time. Soon it was late afternoon. His friends all went home but Wang felt that he had been sitting too long and he decided to walk in the forest surrounding Nan Xuan. While he was walking, Wang Sirang saw a tea tree that was very different to any other he had seen before. He was very interested, so he moved this tree into Nan Xuan's tea tree garden. He nurtured this tea tree and it became very strong. The leaf was round and in the middle it was a red color. He picked the leaf and made tea, it was surprisingly good. Soon, he invited his friends to try this sweet-smelling tea. It was full in the mouth and seemed to seep inside your whole body to the heart. They couldn't forget this tea.
In 1741, the Emperor Qian Long asked Wang Sirang to go to Beijing to make a report about his work. In Beijing Wang Sirang met another high officer, Fang Bao, who was working in Beijing. Wang gave Fang Bao some this tea. When Fang Bao tried the tea he was very surprised how good it was. So he took it to Emperor Qian Long. When Emperor Qian Long drank the tea he exclaimed that he had never drunk tea as good as this. Emperor Qian Long described this tea to be heavy like iron (Tie) and to look very beautiful, like the god Guan Yin from Chinese history. So Emperor Qian Long gave this tea its name, 'Tie Guan Yin'.
I like to drink Tie Guan Yin tea everyday. I must drink three or four cups. Drink good green tea after a meal and it helps your body to keep well and not get fat.
I hope you enjoy Tie Guan Yin tea.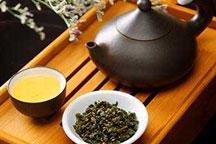 Journeys in time 2010-06-24 China´s intangible cultural heritage (8)- Tieguanyin tea (30 Minute Documentary)
The story of the Pu'er Tea 普洱茶 the famous red tea of China.
Chinese green tea -Tie Guan Yin's story 铁观音
Magic Tibetan Tea - Po Cha 'Tibetan Butter Tea'