Marriage in China - Ancient & Modern
A Qing Dynasty wedding. The two parents are seated. The bride is wearing the blue hat, presenting tea to the mother. The groom usually wears a sash forming an "X" in front of him.

In China, marriage is considered to be one of the three most important things in one's whole life. Traditionally, a whole wedding consists of 6 different steps in advance and then the wedding ceremony.

The Chinese wedding ceremony first began at the end of the Prehistoric Times (1.7 million years ago – 21st century BC).

In the Xia and Shang Dynasties (21st – 11th century BC), the 'Meeting the Bride' ritual was formalized.

During the Zhou Dynasty (11th – 221 BC) the more complex and ceremonial tradition of 'six rites' was recognized: presenting gifts to the girl's family, knowing the girl's general background, engagement, presenting betrothal gifts to the bride's family, asking the fortune-teller to choose an auspicious day, and meeting the bride. This established the traditional Chinese marriage customs.


China comprises 56 ethnic groups and Chinese marriage customs are an important part of the country's folk culture. Different ethnic groups have different marriage customs: During a wedding day in Bulang communities, the bride's companions will steal the bridegroom and carry him off to the bride's home at dawn and the bridegroom's companions then carry off the bride to the bridegroom's home at dark; for the Dai people, finding a mate by selling chicken soup is done at every festival: girls will stew a pan of chicken soup to sell. If the boy is well-satisfied, she will hang her head shyly; if the boy also takes a fancy to her, they will carry the chicken soup to a quiet place to confess their feelings; during the Folk Song Fair of the Zhuang nationality, girls carry colorful embroidered balls while singing songs. A girl will throw the gaily-decorated ball to the boy she falls in love with.


Match-making

If a man fell in love with a girl, the man's family would ask the matchmaker to help propose with some gifts. Originally, the gift was a live wild goose, which was the symbol of living up to the pledge between each other. This was because the geese were always flew south in autumn and returned in spring at the same time each year.

White geese also symbolised spotless virtue.

Name Knowing

The matchmaker would inquire about the girl's name and birthday. Then the matchmaker would ask a fortune-teller to check if the marriage would be happy.

Engagement

If the match was auspicious, the man's family would ask the matchmaker to arrange the preliminaries for the marriage. This would include some gifts and a formal letter called the 'Appointment Book'. The two families would then exchange the girl's and the man's birthday records as the evidence of the engagement.

The man's family would then make preparation for the marriage.

The girl's family would assemble the dowry, which would include bedding, chests, jewellery, clothing, silk, satin, plates and the like. Some rich families would include a house and shop as the dowry.

Presenting the Betrothal Gift

When everything was almost ready for the marriage, the man's family would present money and various gifts to the girl's family. The variety and quantity of the gifts and amount of money were all clearly listed in a 'Gift Book'.

Choosing an Auspicious Day

The man's family would ask the fortune-teller to choose an auspicious day based on the couple's births.

A few days before the wedding, the girl's family would send the agreed dowry to the man's family.

At the same time a privileged elder woman would make the bed for the new couple. Scattering all kinds of sweets and fruits on the new bed such as red dates, longans, litchi, red and green beans. No one was permitted to enter the bridal chamber or touch the new bed until the night of the wedding.

The Marriage Day

Meeting the Bride


The bride would wear red clothes, which were auspicious.

The bridegroom would wear a special wedding suit and, accompanied by a procession, go to meet his bride.

The bride would kowtow to her parents before leaving her home to acknowledge their love and care from childhood.

The bridegroom would also bow out of respect.

At the departure of the carriage or the bridal sedan chair, the bride's parents would scatter a bowl of water and a bowl of rice. This represented that their daughter was leaving and would never return. It was wishing her enough food and drink in future.
Upon leaving, the bride would throw her fan out the window of the carriage or sedan chair. This represented throwing away her bad temper.

Wedding

On arriving at the bridegroom's home, the bride would step over a brazier to burn out anything inauspicious in her life.

Then the couple would kowtow to the bridegroom's parents, the heaven and the earth, and then to each other.

The bride would then be sent to the bridal chamber.

The wedding feast would then be held.

After the wedding feast most relatives and friends would leave, however some friends and relatives of the same generation would crowd in the bridal chamber to tease the bride.
The story of Xiaosui's grandmother's wedding is included in - 'san cun jin lian - feet binding in China'
Contemporary Chinese marriage

Contemporary Chinese marriage customs are not as complicated as the traditional ones.

They primarily involve the engagement and wedding ceremony. Betrothal gifts are usually gold or diamond jewellery. The dowry is usually some modern electrical appliance such as a fridge or washing machine or TV set, or furniture. Some rich parents give a house or apartment.

On the wedding day a more traditional bride will wear red clothes, which are regarded as auspicious. The 'western' custom of wearing white is slowly creeping in. However, in China white is worn at funerals.

The bridegroom wears a good suit.

The bridesmaids and a groomsman attend the new couple at the wedding. The bridegroom takes a decorated car to meet his bride instead of a carriage or sedan chair. Restaurants and hotels have become favoured to hold the wedding feast where the entire wedding ceremony is often organized by a master of ceremonies at the restaurant or hotel. The couple will also attend the feast together and propose toasts for the guests. After the wedding most modern couples will even a honeymoon trip.
A couple celebrates during a sub-zero wedding at Harbin's Ice and Snow Festival in Harbin, Northeast China's Heilongjiang province. (See more photos)

Marriage in a Confucian context

In Confucian thought, marriage is of grave significance both to families and to society as well as being important for the cultivation of virtue. Traditionally incest has been defined as marriage between people with the same surname. From the perspective of a Confucian family, marriage brings together families of different surnames and so continues the family line of the paternal clan. This is generally why having a boy is more preferred than a girl when giving birth. Therefore, the benefits and demerits of any marriage are important to the entire family, not just the individual couples. Socially, the married couple is thought to be the basic unit of society. In Chinese history there have been many times when marriages have affected the country's political stability and international relations. From the Han Dynasty onward, the rulers of certain powerful foreign tribes such as the Mongolians, the Manchus, the Xiongnu, and the Turks demanded women from the Imperial family. Many periods of Chinese history were dominated by the families of the wife or mother of the ruling Emperor. Thus marriage can be related to politics.(Wikipedia)
Traditional marriage rituals

Six etiquettes
Proposal: When an unmarried boy's parents find a potential daughter-in-law. They then located a matchmaker whose job was to assuage the conflict of interests and general embarrassments on the part of two families largely unknown to each other when discussing the possibility of marriage.
Birthdates: If the selected girl and her parents did not object to the proposal, the matchmaker would match the birthdates in which Suan Ming is used (Suan Ming is Chinese fortune-telling technique in which the foreteller could predict people's future by only using either one's date of birth including year, month, date, and time, or hand pattern. Ancient Chinese people believed that the date of birth determines your future; a good birth date could bring luck not only to his/her own self, but also to his/her family. Stereotype people still believe that is true) to predict the future of that couple-to-be. If the result of Suan Ming was good, they then would go to the next step, summiting bride price.
Bride price (Betrothal gifts): At this point the bridegroom's family arranges for the matchmaker to present bride price (betrothal gifts), including the betrothal letter, to the bride's family.
Wedding gifts: The groom's family will then send an elaborate array of food, cakes, and religious items to the bride's family.
Arranging the wedding: Before wedding ceremony, two families would arrange a wedding day according to Chinese Tung shing, make sure the day is good for wedding in order to assure their good future would not be affected by choosing a bad day of wedding. In some cases there may be no auspicious dates and the couple will have to review their chose date range.
Wedding Ceremony: The final ritual is the actual wedding ceremony where bride and groom become a married couple, which consists of many elaborate parts:

Wedding Procession: The wedding procession from the bride's home to the groom's home. The procession consists of a traditional band, the bride's sedan, the maids of honor's sedans (if there are maids of honor), and bride's dowry in the forms other than money.
Welcoming the Bride: The wedding procession of the bride's family stops at the door of the groom's home. There are ceremonies to be followed to welcome the bride and her wedding procession into the groom's home, which varies from locale to locale.
Actual Wedding Ceremonies: Equivalent to exchanging vows in the west, the couple would pay respect to the Jade Emperor, the family deities (or buddhas and bodhisattvas), paying respect to deceased ancestors, the bride and groom's parents and other elders, and paying respect to each other.
Wedding banquet In Chinese society, the wedding banquet is known as xǐ-jǐu (喜酒, literally joyful wine), and is sometimes far more important than the actual wedding itself. There are ceremonies such as bride presenting wines or tea to parents, spouse, and guests.
The Liberty of Marriage - Chen Zhiwu
By 1955 in China, a divorce certificate that could be initiated by husband or wife became accepted as part of the mainstream institution of marriage. It marked a period of equality for the two sexes under the eyes of the law. During that time, people seldom considered the reasons behind marriage or divorce certificates. Why is it that in those days, people had the right to get married and divorced, but had few other freedoms? Are divorce rates a reliable indicator of greater personal freedom?

What certificates of marriage from the Zhou Dynasty to today can tell us about the sociology of freedom


Despite millennia of autocratic rule in China, folk life has been central to the preservation of traditional forms of expression. One example of this is an early form of documentation for the custom of marriage. The "Zhou Rituals," recorded in the Zhou Dynasty show that marriage represented a civil contract only between individuals. When did the marriage license, a symbol of state authority, appear in China? Below is a marriage certificate in the 11th year of Emperor Tongzhi of the Qing Dynasty (1873). The seal says, "A Harmonious Union Lasting for a Hundred Years," and was split in two halves – one side each for the husband and wife to hold as parties to the contract.
My mother came to my father's house when she was nine years old as a child bride. She said she wished to marry into a wealthier family than hers but it turned out that my father's was poorer. Each time she recounted the story, she couldn't help but sob out loud. At the time, there were no marriage licenses in the rural areas. The most official form of ceremony was the banquet. In China, marriage licenses were issued around the 1930s or 40s. Below is a Nanjing marriage license from a group wedding in 1948, notarized by the Mayor and Director of the Social Affairs Bureau of the city, which was the fashion in those days. This is when marriage began to require state recognition.

This was around the time that the government of the Republic of China began to move into the initial stages of decentralization. The marriage license retained several of its traditional cultural elements. Here is an engagement certificate in 1947. It has more personal information about the fiancé and fiancée and offers the most personal form of documentation. In fact, in the West, before modern government took shape, marriage had been considered a private institution. Marriage certificates were issued by the church, not by the state. However, marriage also brought about changes due to immigration and social welfare policies.
The way that the official history of the dynastic cycles has been recorded has undergone changes with greater research into these forms of documentation. Marriage licenses changed in the 1950s. This marriage license in Tianjin in 1956 reads, "In light of the spirit of freedom and equality, and mutual love and respect, the couple is hereby entitled to form a lifelong bond with the virtuous sake of familial happiness and the building of a new society." It also bears a photo of Mao Zedong, the stamp of state approval.
Friends ask me why I am so interested in the institution of marriage. For me, the interest comes from the effects of the modern marketplace on traditional concepts of filial piety which were grounded in "raising a son to prepare for one's old age." In China, the Cultural Revolution introduced dramatic changes to marriage licenses. The marriage license shown here bears the directives from Chairman Mao to "serve the people with heart and soul." The nature of the text steers away from the personal and emphasizes ideological concepts of revolution.
This is a wedding ceremony invitation from 1969. The quotation from Chairman Mao on it is rather blithe, "The world is yours as well as ours, but ultimately it is yours." Private life was completely politicized. Yet, after Deng Xiaoping ushered in the reform and opening up policies in 1978, these ideas stood ingrained in the lives of many.
This is a highly-unique "marriage restoration certificate" from 1956. At the time, it was typical after a divorce for the couple to be free as air. Remarriage could occur with either a new marriage license or a "marriage restoration certificate." If the two sides decided to remarry each other, why would it require state acknowledgement? Depicted on the upper margin of the license are workers, farmers and soldiers representing permission by the proletariat. Along the side margins are symbols of agrarian life such ears of wheat. The text running alongside the margins says, "Mutual love and respect, amity and unity. Let us join our hands together to work for production."
Deng Xiaoping's reform and opening up to the rest of the world allowed rhetoric of workers, farmers and soldiers to fade out of private life. Quotations and political slogans disappeared from the marriage license. But the marriage certificate then became completely sapped of all verve. Below, a marriage license in 1986 provides an example of the contemporary marriage certificate.
A divorce certificate when the government of the Republic of China was on the mainland contained a great deal of information on the individual. The divorce certificate was a milestone in the women's rights movement. Although marriage licenses were invented long ago, it was nothing more than a signed contract by the parents of the couple and the matchmaker. Then, when the marriage was consummated, the final decision would be made by the husband, who reserved the sole right to reject the marriage. The wife could be sent home at any time. Divorce, therefore, was a right only enjoyed by the husband. But this divorce certificate is marked a redefinition in marriage rights in the Chinese legal tradition.
A divorce certificate when the government of the Republic of China was on the mainland contained a great deal of information on the individual. The divorce certificate was a milestone in the women's rights movement. Although marriage licenses were invented long ago, it was nothing more than a signed contract by the parents of the couple and the matchmaker. Then, when the marriage was consummated, the final decision would be made by the husband, who reserved the sole right to reject the marriage. The wife could be sent home at any time. Divorce, therefore, was a right only enjoyed by the husband. But this divorce certificate is marked a redefinition in marriage rights in the Chinese legal tradition.
Confucian traditions dictate that "raising a son for one's old age" relies on the paternal side of the family. Social activity, including property management and decision-making revolves around the life of the father and son. In such an arrangement, the wife is considered a facilitator, carrying the responsibility of extending the family line and the work of child-rearing. The "Seven Rules of Divorce" were first introduced in the Han Dynasty, and became part of marital law in the Tang Dynasty. It lists seven reasons for divorcing a wife. It states:

"The regulation was made according to the official order. First, not producing offspring; Second, committing adultery and being lazy; Third, not caring for uncles and aunts; Fourth, gossiping; Fifth, theft; Sixth, jealousy and Seventh, severe illness."

Below, a divorce certificate issued in 1950.
By 1955, a divorce certificate that could be initiated by husband or wife became accepted as part of the mainstream institution of marriage. It marked a period of equality for the two sexes under the eyes of the law. During that time, people seldom considered the reasons behind marriage or divorce certificates. Why is it that in those days, people had the right to get married and divorced, but had few other freedoms? Are divorce rates a reliable indicator of greater personal freedom?
The author is an emeritus professor at Yale University
(Reprinted in full from Caixin Online)
Post Modern Marriage in China??
VIDEO - Naked wedding photos


China Daily reports this week that naked wedding photographs are becoming popular among some young couples in Beijing and other cities. Young people are more open-minded than in previous generations, one photography studio staff member explained.
See Kaixin's FEATURE on Naked Wedding in China
The naked truth about nude art

Xiao Yu (not her real name) smiled as she flipped through her favorite photo album - a collection of nude portraits she recently posed for at a Beijing studio.

"A beautiful body deserves pride," said the 23-year-old. "I wanted to preserve the memory of youth, when the body is at its physical peak."

Although unabashed in private, perhaps the fact that Xiao Yu did not want to be quoted under her real name for fear of upsetting her family or bosses at the media organization where she works tells a different story.

A growing number of Chinese people are now choosing to go nude for posterity, particularly young women and new brides. However, the trend is not supported by everyone.
Modern China
Belated wedding photos capture a lifetime

A couple married for 78 years have their first wedding photos taken in Leping, East China's Jiangxi province on Oct 13, 2010. The couple, 103-year-old Huang Desheng (R) and 97-year-old Cheng Yinzhi, were selected to participate in Leping city's "free wedding photo shoots" ahead of the upcoming Chongyang Festival, or Double Ninth Festival, which advocates filial piety and respect for elders. The Chongyang Festival falls on the ninth day of the ninth month of the Chinese lunar calendar, or Saturday this year.
Golden couples celebrate festival

Couples walk on the red carpet during a celebration of their golden jubilee wedding anniversary ahead of the Double Ninth Festival in Jinan, East China's Shandong province, Oct 12, 2010. A total of 100 couples, married for 50 years, attended the party to embrace the upcoming festival, which is for the elderly and falls on the ninth day of the ninth month in the Chinese lunar calendar, Oct 16 this year.
Brides and prejudice in China

China's widening gender gap threatens to cause "irreversible" damage to the traditional family unit and could lead to more women being abducted, trafficked or sold into marriage, experts have warned.

The disparity between the number of male and female babies born across the country has been steadily increasing since the 1980s. Studies by the National Population and Family Planning Commission this year showed the imbalance of men and women is 130 to 100 in provinces such as Anhui, Jiangxi and Shannxi, according to Yuan Xin, a professor at Nankai University's population and development research institute.

The country has already entered an era where men far outnumber women, he said, "so if in 10 years the media is reporting about tens of thousands of men who can't find wives, then it will be no joke".
A young couple gets married during a traditional wedding ceremony in Guizhou province. It is becoming increasingly difficult for young men in the Chinese countryside to find wives due to the gender imbalance.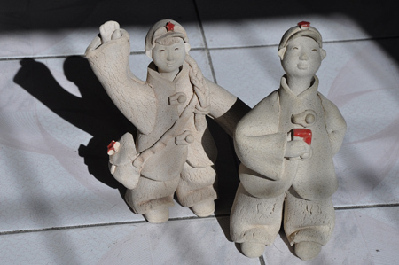 From arranged marriages to blind dates, building a family in China is an evolving process driven by political change, economic development, and social trends, all intrinsically linked under the umbrella of globalization.
The Marriage Law passed in April 1950 was regarded as a landmark achievement for building a family, the basic unit of society, on the foundation of free will and equal rights since it formally ended the traditional practice of arranged or forced marriage across the country. However in a society dominated by political ideologies and concepts of class, marriage-making was featured as a strong pledge of securing revolution, rather than a natural binding of love. It was taken as granted that people could get married before they even know each other and the union helped people to better participate into the class struggle and realize revolutionary goals.
In 1980, the Marriage Law had its first major amendment, adding "broken relationship" as a precondition of divorce. One year later, the newspaper Market published the first marriage-seeking ad since 1949, and a new breed of matchmaking came to life in China.
How China Does 'The Bachelor'

More than 50,000 young beauties from across China have lined up to win a date with one of 18 young, millionaire bachelors. The contest is the latest in a trend of beauty contests for the rich that has been criticized heavily in the media, on the net, and even by the government.
Singles Day in China - 11th of November (1111)
Yes, college, the Chinese students' Mecca of Love, where the most intolerable sin is being a miserable single. While, where there is oppression, there is resistance. That's why the lonely hearts cobble together their Bachelor's Declaration by coming up with, not one (they love to deny that they hate the number) but three festivals, on January 1, November 1 and 11, dubbing them the Little Single's Day, the Middle Single's Day and the ultimate Big Single's Day respectively. Obliviously, they hate the number so much that it becomes a symbol worthy of special rituals.
A bride poses under golden gingko trees for her wedding portrait in Beijing on Nov 7, 2010. Leaves from gingko trees along the boulevard outside the Diaoyutai State Guesthouse turned golden recently, attracting lots of visitors to take pictures and enjoy the autumn of Beijing.
When wedding bells ring


Addie Chen, 28, definitely had a tight agenda over the past several months.

The corporate employee in Beijing and her fiancé were busy preparing for their wedding ceremony, scheduled for the end of May, 2009.

Compounding matters was the long 'to do' list: taking wedding photos at studios and scenic spots, reserving a hotel for the wedding banquet, booking wedding limos, selecting the wedding dress, and buying necessities for the marital celebration.

Chen and her fiancé, both non-Beijing natives, got to know each other and fell in love two years ago shortly after they secured working posts in the capital and settled down there. With their parents living in faraway provinces, they had to prepare everything themselves.

Although the wedding preparations were quite time-consuming, they decided not to leave it to the professionals to save money.

What's more, they believed a wedding is one of the most important occasions in their life, so it would be more meaningful to arrange it by themselves.

Many wedding companies are thriving in various cities across China, with a recent survey showing that more than half of young couples in China are willing to have a wedding company arrange everything, despite the high cost.
Courses for true love run smooth

Singles turn to relations experts and pickup artists to boost chances of finding love. Hu Yongqi and Duan Yan in Beijing and Liu Ce in Shenyang report.

Shen Cai is a major player when it comes to business and has made millions from publishing and real estate in Beijing. Yet, for years he struggled to have any success with the ladies.

Last year, to impress a woman he met at a banquet, he treated her to a 10,000-yuan ($1,500) dinner and sent her fresh flowers to her desk every morning. The woman quit her office job shortly after.

"Although I was talented in business, all I knew about love was what I'd seen in romantic movies," said the 33-year-old. "I didn't figure on scaring the girl off."

Studies show that China's 180 million single men and women, particularly those aged 25 to 45, are finding it increasing difficult to find partners. To boost their chances, more are turning for help from pickup artists to master the art of seduction.
A pickup artist talks his students through the delicate methods of wooing women, at a shopping mall in downtown Shanghai. Some men are paying up to 4,500 yuan to attend three-day boot camps and workshops that teach how to interact better with women in social situations.
Matchmaking event held in Beijing
A women takes photos with their mobile phones at a matchmaking event at a park in Beijing February 4, 2011. The boards display their names, photos, age, income and occupation among other details.
People look at profile boards of possible candidates to find future partners for their children at a matchmaking event at a park in Beijing February 4, 2011. The boards display their names, photos, age, income and occupation among other details. The event is held during the Chinese Lunar New Year holidays at the park.
Romance for rent

For young, single city professionals, the Spring Festival holidays present many reasons to be fearful: standing in line for hours to get a train ticket, exhausting long journeys, stuffing red envelopes with cash. Arguably the No 1 reason is the prospect of turning up at home alone. Not only does it give parents the opportunity to nag - "Your classmates and cousins are married and have children. What's wrong with you?" - but it is also likely to result in a holiday spent on blind dates. To ease the pressure, Chinese singletons are simply paying people to pose as partners for their holiday homecoming.
Tang Yongxue waves a placard as she looks for a fake boyfriend for Spring Festival in Chengdu, Sichuan province. She offered 10,000 yuan for five days's work.
CCTV Blind date: Find your true love at temple fair VIDEO


This year's temple fair at Beijing's Temple of Earth is not just about traditional culture. It also offers a new opportunity for single people to meet their perfect partner during Spring Festival. Our reporter Ji Yi went to find out if the historic surroundings had any effect on helping love blossom, at this extra special blind date.

Activities like massaging a stranger make the young visitors more relaxed in this special blind date.

Games are arranged to break the ice between single men and women. But when it comes to talking about what they're looking, everyone has their own ideas.
Desperate and dateless,men learn new tricks

BEIJING - Finding one's better half can be a tricky business in modern China, with hectic work schedules, nagging parents and a gender imbalance conspiring to make selecting a partner a nightmare for single men.

According to the "2010 China Marriage and Relationship Survey Report", released on Monday, 260 million Chinese are looking for love - 180 million singles and 80 million concerned parents.

Eager singles swamped matchmaking events held in Beijing during the Chinese New Year holidays, with an estimated 50,000 people attending a week-long event in the capital's Ditan Park, according to organizer Jiayuan.com, a popular matchmaking website with more than 40 million registered members.

"I am the third oldest in my family, and everyone has a girlfriend except me," said 29-year-old insurance worker Chen Nan, who said he felt pressure to step up the search for a wife.

People taking part in the event, mainly white-collar workers in their late 20s and early 30s, flirted and exchanged phone numbers and pieces of paper.

According to Jiayuan.com, more than 70 percent of participants were in fact anxious parents hoping to fix up children too busy or shy to meet members of the opposite sex.
Centenarian couple celebrates Valentine's Day

104-year-old Huang Desheng and his 99-year-old wife Cheng Yinzhi receive a heart-shaped rose bouquet on Feb 14, in Leping city, East China's Jiangxi province. The city's Working Committee Office on Aging send the bouquet to the couple as they celebrate their first Valentine's Day.
CCTV Valentine's Day for singles VIDEO


As couples are enjoying Valentine's Day together, there are many singles hoping to end their lonely days as soon as possible. As the number of single women above 28 and single men older than 30 is on the rise in China, Zhang Ni takes us a look at how these singletons are searching for love.

Yu Bo, boss of a culture company in Beijing, is going to be her own boss today -- by spending Valentine's Day alone.
Studio interview: Changing view of love
Romance is in the air as people marks Valentine's Day in China. Love birds looking to celebrate are being offered all kinds of treats by retailers and restaurant owners. Roses are proving to be the number one necessity as bouquets are flying off the shelves at flower markets, despite a 10 percent price increase.So how is love and marriage perceived in China? To help answer that, we're joined by our current affairs commentator, Professor Teng Jimeng.
Court Considers Revising China's Marriage Law

Under a draft interpretation of China's marriage law, expected to be issued in coming weeks, mistresses would not be allowed to sue their married lovers for reneging on promises of money, property or goods, said legal experts who have reviewed the language. Nor would wayward husbands be allowed to seek the courts' help in retrieving money or goods that they bestowed upon mistresses.
Kaixin OpEd – You don't get rid of millennia of tradition in just one edict and a decade or two.

In China, one of the perks of being rich and/or powerful was having several wives and a mistress or two.

Mao got rid of all that and bought in monogamous marriage.

This worked in general because no-one could afford a mistress anyway, except high officials and Mao … but we will pass on from that.

Many people in China have become rich and one of the traditional perks of being rich was a mistress or two.

This is mostly new money, but the thinking of how to spend it is old. There is no point in being rich if you don't get a perk or two.

However, in old China, before Mao, the women had no say in just about anything. Women in China now have redress to the courts and the women are finding their voice.

For some reason, not fully understood by men, the women are not too fond of this particular perk of the rich.

After the Cultural Revolution, around 1976, the universities in China were thrown open to anyone who would pass the entrance exam. Traditionally, only people from the cities went to University, or could afford to go.

Deng Xiaoping realised that the way forward for China was to develop the intellectual potential locked up in the young people of China. He threw open the universities to young people from all over China.
A university education became achievable for people from the country for probably the first time in China's history.

To understand China, you need to understand the deep divide between city and country.

The two had never mixed in China and lived in different worlds.

The young people of China, from both the city and the country, were thrown together for the first time in China's history.

Young people being young people and hormones being hormones, there were many marriages that simply could not have occurred before.

Differences were shed like unwanted skin and these young people mixed as equals, for the first time in China's history.

Most parents resisted the marriages, they knew that the deep divide between city and country had not disappeared, the young people had merely acquired a veneer.

However the parent had lost a lot of their authority and were generally ignored.

Young people being young people.

In China, you do not just marry the person, you marry into a family.

The families of the young people from the country were not university educated and often had not lived outside their village or town. They were steeped in tradition ways.

The partners, usually women, from the city found themselves in a strange and unfamiliar place, that of old China were the wife was considered little more than a slave and an extra mouth to feed.

University educated young women who had experienced a new open exciting world did not accept this straight-jacket, they rebelled.

There were many divorces.

The young women were often left with a child. In the China of the one-child policy, these young women were unwanted.

Men still demanded a child, preferably male, from a marriage.

Men were able to find another young woman who had not had a child.

Many of the women who had children were forced into the role of mistress. The men were steadily becoming richer in this new China and could afford this particular perk of the rich.

The women were, however, not subservient and tended to demand some rights. They went to the courts and created no end of havoc for the men.

Hence, the new laws.

However, it is not that simple.

The law should deal with the world that 'is', not with a world the powers that be, mostly men, want to portray; one of a happy monogamous marriage.

The one-child policy is supported by Kaixin and most people in China. However one of its consequences has been to in effect throw a woman with a child on the street.

Finally, the men who made the first wave of money and had stayed married were generally in their late 40's or early 50's. So were their wives.

A young pretty thing found it easy to take the eye of a rich bored businessman.

Many marriages were broken as old wives were traded in for new ones.

In a country were the wife still has little real protection from the law, this often left the women in financial difficulty.

All in all, a toxic mix that is not the fault of anyone in particular. However, to single out the mistress as the one to blame does seem a little unfair. Anyone should have a right to take their matter to court.
'Naked' Marriage - Shanghai

As a young girl from Shanghai, Fan Fan used to dream: she would meet a handsome, kind man, he would lavish romantic gifts on her, their families would approve, and after a blissful wedding they would move into a large penthouse apartment that her doting husband had bought for her. Like I said...that was her dream.

As a pretty woman in Shanghai, it wasn't that she was short of suitors. "A lot of boys liked me," she quietly giggled, "but most of them were stupid. I guess I just care more about love than money."

She finally found a man she loves, but with his salary, he could never afford an apartment in Shanghai. She admitted, in a serious tone, "He might not even have money to buy me a ring... But I can accept a 'naked marriage.' I think he is a good man."

Don't get too carried away. By "naked," Fan Fan doesn't mean they won't wear clothes at their ceremony. It's a Chinese expression (裸婚) that means getting married with no house, no car, no diamond ring and no proper wedding ceremony. With the insane housing prices in China today, it's a growing trend that makes quite a bit of sense, especially for people like Fan Fan and her boyfriend. But my contacts in Shanghai tell me that most girls in the city aren't going to get married without a place to call home... their home.


Big spenders hit expo to plan big day

BEIJING - Beauty may take your breath away, but a glamorous wedding is almost certain to take your savings away.

That was the message many young couples took from the first day of the annual China Wedding Expo in Beijing on Friday.

The expo, which lasts until Sunday, is a one-stop shop for those planning their big day. It is packed with 1,800 retailers, from caterers and florists to photographers and cake designers.

Thousands of future brides and grooms were busy pinning down the little details that go into creating the perfect wedding, although many found the array of choices and high prices somewhat overwhelming.

"I like this one better. It might cost more but I just want everything to be perfect," said newly engaged Peng Ning, as she looked in the mirror while trying on a 20,000-yuan ($3,000) Spanish-made La Sposa wedding dress at the expo. "It's a once-in-a-life event, so I don't want to settle for less."

Peng's mother, who is paying for the wedding in July, could not agree more with her 28-year-old daughter. "Of course, it's a lot of money to spend on a dress that will only be worn once, but she has no interest in cheaper brands," she added.
A young woman tries on a wedding dress at the China Wedding Expo in Beijing on Friday. The three-day event, which ends on Sunday, gathers 1,800 shops together in the hope of providing one-stop shopping for couples.
Competition for Brides Fuels High China Savings

One prescription for addressing China's trade imbalance with the U.S. is to persuade the country's tiger moms to loosen their purse strings.

Shang-Jin Wei, director of the Chazen Institute and a professor at Columbia Business School, said Wednesday that China's demographic situation — 1.15 pre-marital-age men for every one woman — is the fundamental factor behind the nation's high savings rate.
Too few brides may be contributing to China's trade imbalance.
Peoples Daily FEATURE

Challenge to the traditional view of love and marriage
Love hurts as wedding costs soar

Shanghai - Weddings are not only about love; they're also about money.

To celebrate this important event in their lives, members of the post-80s generation in Shanghai are facing huge costs, which are rivaling those in the United States and Europe, a recent survey has revealed.
The New York Times
For Many Chinese Men, No Deed Means No Dates

Last year, he said, this deficiency prompted a high-end dating agency to reject his application. In recent months, half a dozen women have turned down a second meeting after learning that he had no means to buy a home. "Sometimes I wonder if I will ever find a wife," said Mr. Wang, who lives with his parents, retired factory workers who remind him of his single status with nagging regularity. "I feel like a loser."
A billboard promoting real estate in Beijing. Amid a real estate boom, men are finding themselves lovelorn as women hold out for a mate with property.
Kaixin OpEd – Not too far off the mark.

Many women in China are indeed putting a high price on their favours.

Not all, but a reasonable proportion, enough to notice.

Three years ago we met a young male taxi driver, around twenty-eight, who bemoaned the fact that he could not find a girlfriend. Girls in Nanning at the time had sent the benchmark at 3,000 yuan a month and he only made a little over 1,000 a month.

Also, young women tend to be well educated and independent and are not all that interested in losing that independence.

Still, Kaixin believes that you can't get rid of love that easily.

Money might buy a lot of things but love and happiness are not two of them.
People's Daily Survey: Chinese reluctant about prenups

A recent survey showed that fewer than 5 percent of the couples in China's first-tier cities have entered into prenuptial agreements, and nearly 90 percent of unmarried people dislike the idea of establishing official records of what property they owned before getting married.

According to Chinese law, the ownership of real property depends on the time when the property was purchased. If a husband or a wife buys a house before registering for marriage, the house becomes his or her sole property. If it is bought afterward, it is a joint property.
On-line Dating:A New Craze Sweeping China

Due to the dating pressure, millions of China's singletons log on dating websites to find love, especially for men, which has been driving a major boom in on-line dating business.

Where does this dating pressure come from? As a Chinese saying goes,"A man should get married on coming of age, so should a woman " Nowadays, Chinese parents commonly expect their daughters to be married by the time they're 25 and sons by the age of 30. There's even a word for those who are not married by the time expected: Shengnan and shengnv, literally a "left-over man" or "left-over woman". Shengnan and Shengnv are bearing all aspects of pressure coming from their worried and pushy parents as well as their busy jobs. "I was very busy; my life circle was very small" Ada Zhang, one of my ex-colleagues, said, "So I turned to on-line dating, and I made it, now I'm married. I believe everyone can find their true love on the internet" She is just one of millions of Chinese people who are turning to on-line dating as a solution to their relationship woes in a society where the pressure to find a partner can be very oppressive.

According to research by the National Women's Union and Baihe.com in 2010, China currently has 180 million bachelors, 23.8% of who are going on dates arranged by their parents, the rest are looking for dates by themselves. A male netizen makes a joke of his being-busy in his blog,"if I'm not on a date, I must be on the way to it". Among 180 million bachelors, some ask for dates from matchmakers, some "sneak" into dating agencies in a low profile, some even step out and chat up with girls on the streets, however, up to half of whom are thought to be looking for love on-line.

By Jan, 2011, there are three main stream on-line dating websites: Jiayuan.com with 32 million registered members, Baihe.com and Zhenai.com with 26 million members each, which all together account for nearly half of singletons in China.

Those numbers mean big business. In china, the combination between the immense demand of finding love and the advanced network has started generating the windfall profits. Every on-line site now is like a 24-hour convenient store, collecting and selling their member's information. What makes people jealous is that those websites are taking in billions of revenues annually, with the annual growth rate at 200%. Every year, there are 20 million singletons who would become the potential clients for the on-line dating sites. According to Time.com, it's estimated that online dating sites attracted three million paying customers in 2010, who collectively spent more than $150 million.
XinHua News 6/6/2011
Survey shows young Chinese postpone marriage due to housing pressure

A latest survey shows that housing pressure has resulted in 24.8 percent of China's urban youth postponing marriage, and another 21.3 percent postponing having children.

According to the survey conducted by the Xiaokang Magazine, nearly 70 percent of respondents, mainly youth aged from 25 to 35 living in urban areas, said they would not like to get married if they still had to rent.
People's Daily 8/8/2011
"Naked marriage" challenges Chinese marriage traditions

Without expensive preparation and rituals, Wang Shaowei and Zhang Xin tied the knot at a cost of nine yuan (1.4 U.S. dollars), which was used to obtain the marriage certificate.

The couple, who just entered the work force and had learned to be self-reliant, did away with nearly all the traditional "must-haves" for a Chinese wedding: owning an apartment, a car, wedding rings as well as holding an expensive ceremony.

"We had a big dinner in our two-bedroom rented apartment to celebrate the start of our married life, and nothing else," said the 26-year-old Wang, who lives with his wife in Shijiazhuang, capital city of the northern Hebei Province.

However, their frugal wedding, conducted behind the back of their parents, upset their families' older generation.
The dream makers

Wedding couples want their big day portrayed in a new way, and there are those who are happy to oblige

There could hardly be a more romantic wedding photo setting for a bride and groom than a sun-drenched, lavender-clad field in the south of France.

For most Chinese couples such a backdrop belongs strictly to the realm of dreams, but that does not mean they have to be deprived of such possibilities.
With this click, I will thee wed

Online marriage game may be more than harmless romantic fantasy, Zhang Yuchen reports from Beijing.

Qian Yu spends hours talking to his bride, discussing furniture for their luxury duplex and colors for the living room walls. They have finally pinned down European Classic style, light purple for the walls and red for the carpet.

Since the summer holidays, Qian has seemed the normal happy newlywed, excited by the mere details of cooking and dining with his wife. But he is just 15 and his married life exists only in cyberspace.

Qian and his "bride" - he said he doesn't know her real name - are two among millions of Chinese teenagers and adults who indulge in virtual marriage. "Not legally binding, for romantics only," according to the home page at 78ba.com.
CCV9 Documentary - Daughters-in-law & Mothers-in-law (From the Chinese and American Perspective)
A Section of Marriage Ceremony Videos